Valley Stream Dog Park

The Valley Stream Dog Run is open daily from 7am-9pm. It has a section of around a half acre for all dogs and a smaller section restricted to dogs of 30lbs or less. The dog run is a property of Valley Stream Parks and currently is available for residents of Valley Stream, Valley Stream School Districts and now also to residents of the Town of Hempstead as well.
The location of the run is shown on this map below.
Spring has arrived and with that a new season beckons at the dog park. Watch out for news of upcoming work and events at the park...

---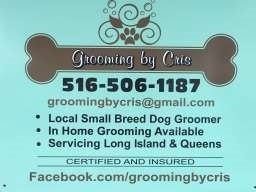 Welcome to our newest sponsor at the dog park.

We hope you will support the local businesses that support us, so please contact Cristina at Grooming by Cris and give your dog a treat. Cristina can groom in her salon or in your home. Please call her at (516) 506-1187 or email her at groomingbycris@gmail.com.

Thanks Cristina for your interest and support.

---
OTHER NEWS
Come and try out our dog agility equipment as well as all the other goodies at the park.

---
---
WHO WE ARE...


The Friends of Valley Stream Dogs is a volunteer-led and run organization, currently applying for 501(c)3 status, that is dedicated to supporting and providing facilities for the dog owners of Valley Stream. We organized initially to promote the creation of a dog run in the Village. This opened officially on May 6th, 2012 but our work continues.

We not only work to support improvements in the dog run but also to help with its operation and to resolve issues. We will also continue to provide input to dog welfare issues in Valley Stream and its environs.

Feel free to friend us thru

Facebook

or email us (details in the

Contact Us

tab).

---




Just a reminder that if anybody wants to have their dog photo (at the run preferably) shown here, please email it to us at vsdogrun@gmail.com and we'll put it up...

It has never been easier to join the Valley Stream dog run as a resident; the Village can now license your dog (it used to be that you had to go to Town of Hempstead for this) so you can license your dog and join the dog run all at the same time. If you are a resident with a dog, you now have no excuse not to join!

---